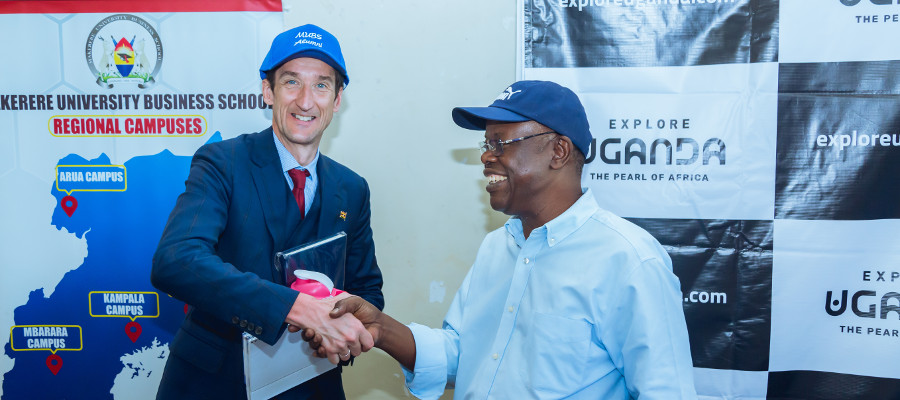 https://drive.google.com/drive/folders/1D6QOGI2a9Eq16oRrU7pnPUQ2P3jab3c9?sort=13&direction=a
On February 14, 2023, MUBS under the Faculty of Tourism, Hospitality and Languages, Department of Tourism hosted Mr. Rob Joseph Walker a famous commentator as the guest speaker at the Tourism and Sports Symposium at MUBS.
During the symposium, the Head of the Department of Tourism Mr. Richard Kawere who was the host revealed that Rob Walker came to equip himself with more knowledge about Uganda. He was invited by the Uganda Tourism Board because of his endless promotion of Uganda as a country during his commentary especially when Ugandan athletes make it to the medal podium.
"Uganda is one of the friendliest, most beautiful countries you can ever wish to visit, Walker said while Peruth Chemutai became the 1st Ugandan woman to win a gold medal at the Olympics.
On the other hand, Prof. Milburga Atcero, Dean Faculty of Tourism, Hospitality, and Languages (FTHL) in her remarks noted that tourism and sports are interlinked and related because when a country hosts an international tournament, many professionals and athletes who visit the country utilize the different amenities offered by the tourism and hospitality sector, for instance, accommodation, food, tours among others. Prof. Atcero added that sport and tourism can act as a form of diplomacy fostering good relations among the countries that take part. She advised sports media to continue playing a key role while commenting on events with the choice of positive narratives that helps to attract foreign visitors.
Furthermore, Prof. Waswa Balunywa Principal of MUBS wondered why with over 20,000 students, Uganda is not dominating the sports sector yet talent is spread all over. He revealed that "In 1998, MUBS had only 1000 students and currently it consists of over 20,000 students as the best service provider of quality education in the region but wonders why MUBS does not dominate in the sports sector too!!!!  "The sports community needs to pull up their socks in order to be on top. I'm not happy with the performance of sports institutions." He noted.
Prof. Balunywa encouraged young people to take on sports because it makes them healthy through continuous exercise, and also revealed that he conducts yoga classes and challenged the rest of the staff that he is fitter than them despite being older than most of them.
Prof. Balunywa says Tourism is a low-hanging fruit that we have not exploited. He said there's a need to put more attention to tourism because it can contribute greatly to the transformation of people's lives.
"We should set up buildings to tell stories in order to exploit this low-hanging fruit for example cultural institutions can promote their different cultural norms and practices in order to attract tourists interested in learning about us," he revealed.
He called upon the government to develop the source of the Nile to international standards and also other tourist attractions. He also wants tourism guides to be students that study tourism-related courses because it becomes easy for them to tell the country's stories from an informed perspective.
Prof. Balunywa further called upon the Dean Faculty of Tourism, Hospitality, and Languages to organize a stakeholder's conference on Tourism in order to brainstorm on what should be done to promote the tourism industry.
In his conclusion, he noted that sports and culture are things that reduce conflict in society although there is less effort and emphasis by the government toward the development of sports in the country.
Further, H. E. Mr. Bruno Kamoga, MUBS Guild President thanked Rob Walker for choosing to visit MUBS out of all the universities in Uganda and promised to promote tourism and sport during his tenure.
On the other hand, Rob Walker during his presentation as the guest speaker said that Tourism is all about telling stories therefore people need to tell the African story. He narrated his career journey and success story about how he applied to join the University of Exeter but was rejected twice thus students should never give up on any of their pursuits because of rejection. Mr. Rob was not one of the most accomplished international athletes and his broadcasting journey to commentary was not easy. He was rejected more than once for placement at BBC but he did not give up on his dream. In 2007 as a producer, he was given an opportunity to travel to Mombasa to cover the 2007 IAAF World Cross Country Championships which took place on March 24, 2007. It is here that he met another official who invited him to commentate on the games in Osaka, Japan later in 2007. Since then, he has been in the mainstream broadcasting of all major athletics events on behalf of the world athletics body.
Walker advised the students to promote their country irrespective of their political affiliations. " Uganda is a hidden gem of a tourist destination. It is your job to promote it with passion and the rewards are enormous," he revealed